We are excited to announce our new product line: Saucey Chic Scarves by Saucey Socks! Many customers have given us feedback that they love the messaging on our socks, and particularly the slightly subversive notion that they can wear wine sock or beer socks to work or to social events and share the 'secret message' with friends. I love that aspect of Saucey Socks too! So when a friend suggested that she wished she could find a fashionable way to wear the notion of female empowerment in any situation - from professional to casual - inspiration struck and Saucey Chic...
---
Mother's Day is nearly upon us and, like every year, it causes me to think long and hard about just how much my mother has given and done for me. I know a lot of people say this, but I was blessed with the Best. Mom. Ever. I believe that the most important job any mother has is to raise their children with love but also expectations. And my mother raised us with both. She never let my brother or me get away with less than we were capable of, but at the end of the day she loved us...
---
• Kiss Me I'm Irish • new product • St. Patrick's Day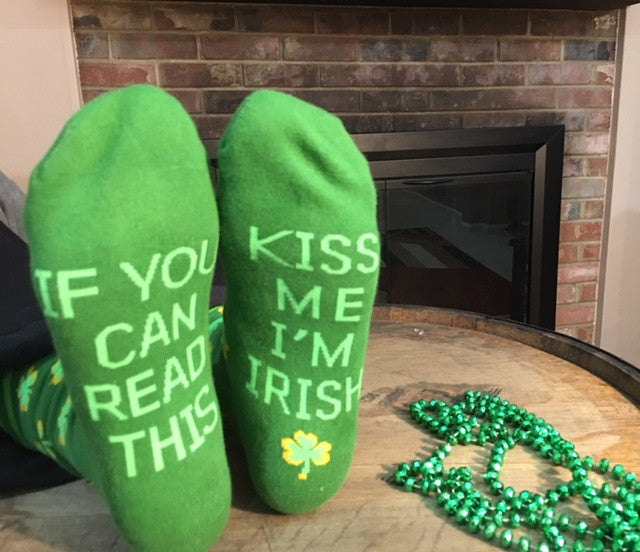 We are absolutely thrilled to introduce our new line of St. Patrick's Day socks!!! St. Patrick's Day is one of my favorite holidays. And I'm not just saying that because I am a graduate of the University of Notre Dame…although that's a big reason too. Who doesn't love Kegs and Eggs!? Green beer!? Green rivers!? So to celebrate everything Irish we've designed green and gold socks with two fun sayings: "If you can read this kiss me and I'm Irish" as well as the classic "If you can read this please bring me a beer."  And never one to rest...
---
In case I haven't mentioned this, I really love socks. I constantly think about what I love about them and how they could be better. When we launched Saucey Socks we worked with a sock distributor and a local printer to come up with something that I thought was fun and cool. But almost immediately I just knew there had to be a better way. I wanted novelty socks that weren't a novelty. Socks that are just as durable, high quality and wearable as any quality day-to-day sock. Socks that you can wear to work that say 'business' when your...
---
One of the most common questions I get asked is: what is your favorite wine to drink while wearing Saucey Socks. I get asked that question, or a version of it, so often that I thought about putting the answer in a FAQ, but ultimately decided to blog about it instead. The answer is: it depends. :) I am pretty fickle when it comes to wine. My tastes tend to go in spurts. At one point I drank only red wine. Then for a couple of years pretty much only white. My dear husband calls this phenomenon of going all...